The Board
    The previous board really enjoyed their year as and would now like to welcome
the new Board of 2019/2020:   
President / Secretary – Cesar Garnier
secretaris@dbsvredsocks.nl / chairman@dbsvredsocks.nl ( +32497910057 )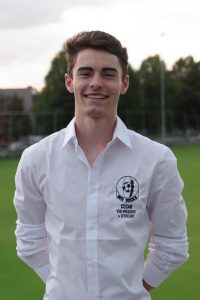 I'm Cesar, you might have already seen me around despite being at DBSV for only one year. I'm 19 years old, starting my third year of International Business and have fallen in love with this club by being part of the amazing 5th team (lit team) and Black Savior committee. This year, I'll be taking the role of Vice President and Secretary, with the goal of making this club better, by innovating, and improving relationships with RKHSV but also with our members, so that we are more united and spread love more than ever.
Treasurer – Blazej Dolicki
penningmeester@dbsvredsocks.nl (+31 611531977 )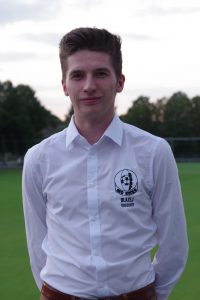 My name is Blazej, I'm 20 years old. I'm studying Data Science at UM and I've been in DBSV for the last two years. During that time I've experienced how great this club is both off and on the pitch and this season I will be the treasurer. My job is to take care of the finances and to make sure we have enough money for all the necessary materials, kits, activities and everything else that a football club may need.
Public Relations – Paula Gitu
pr@dbsvredsocks.nl (+32499407962)

My name is Paula and I'm taking care of Public Relations this year! This is my second year of studying Data Science and Engineering at UM, which is why I like to think I'm suited for this particular job. I'll thus be working on representing and promoting DBSV on and off the internet. It's also my second year as a member of the club, and I've learned to appreciate the teams and the spirit of it, and because to help us grow in numbers, so we can have more fun.
Match Secretary – Jules Overbeeke
match secretary @ dbsvredsocks.nl (+31 631340990)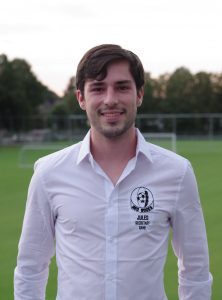 I am Jules and I am a 20 year old dutchie. This will be my second year in Maastricht and also my second season at DBSV. After an amazing season at DBSV playing in the 5th team, I decided to give the responsibility as match secretary a try. That means I am the guy making sure everyone can go to practice and play matches without too many problems.
Activities Commissioner – Celine Feuillet
activities@dbsvredsocks.nl (+ 491623072533 )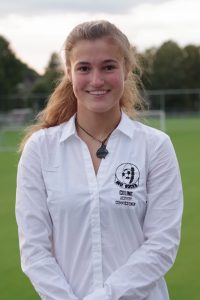 I'm Celine, currently starting my second year at Uni and DBSV. This club picked me up right in their wide open arms and gave me so much fun, on and off the pitch. Wanting to contribute to all of the possibilities and activities, I thought it would be a nice idea to become a activities commissioner. I hope my energy and motivation are off to everyone wanting to participate in this year's events, and we have yet another awesome year at DBSV for it.
Indoor Commissioner – Jacob van Vuren
+31 638961358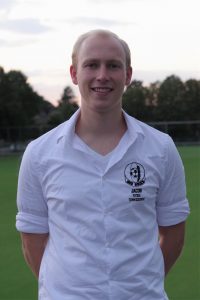 My name is Jacob, 23 years old, and this will be my 6th season (outdoor) for DBSV Red Socks. Starting as someone who was just there for football, I quickly became infused with the activities outside football that DBSV has to offer. This year I will represent the two indoor teams or DBSV. Having played 5 seasons indoor as well, I can safely say that indoor is an underrated aspect of the club. The team spirit is always great and I've played with some great players. A few just get used to a semi-professional level. I hope this year we can fill up the two teams that are left, and become champions with both. Hope to see one of you at the open practices and try it out yourself!
If you have any questions feel free to contact us via email, phone or FB !