Open practices indoor 2020
Open practices 2020
As of the 1st of September open practices will be held every Tuesday and Thursday at 20:00 until the 17th of September!
Fill out the form to join!
https://docs.google.com/forms/d/e/1FAIpQLSccuFU3inVUQenFowJTDzGQ8aQeRQMTiumravoz4DGYci7bCg/viewform
Open practices will take place on our pitches in Heugem. Be at DBSV Red Socks (Sportcomplex Heugem), Gronsvelderweg 110 at 20:00 to make sure you don't miss anything. You can also meet us at the station at 19:45, where 2 DBSV members in red and white shirts will be waiting for you, to cycle to the pitches together. After practice we have activities planned so that you have the chance to get to know new people, the club with its current members and play some fun games.
Practice for outdoor takes place at Heugem (Gronsvelderweg 1, Maastricht) and practice for indoor takes place at UM Sports (P. Debyeplein 15, Maastricht).
Try it out!
Tuesday 1.9, 20:00
Thursday 3.9, 20:00
Tuesday 8.9, 20:00
Thursday 10.9, 20:00
Tuesday 15.9, 20:00
Thursday 17.9, 20:00
Everyone is welcome to join us so we are hoping to see many of you there and are looking forward to playing with you and getting to know you!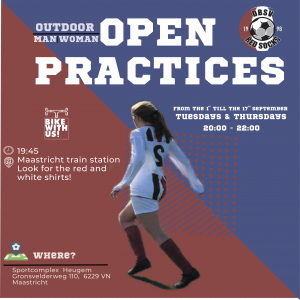 Team Activities
A special element of DBSV are off-the-pitch activities! Our selection decided to go on a short trip for their last team activity to host a battle for the last man standing..!
Check out what they did: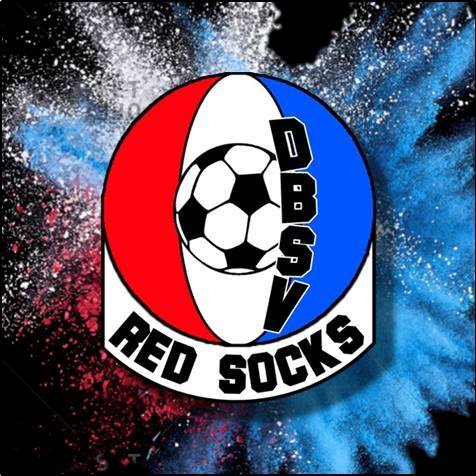 DBSV Red Socks
Are you new to Maastricht? Looking for not just a team but a group of friends for life? A year of fun and football? Then DBSV Red Socks is the right place for you! We have outdoor and indoor football and practice as well as play matches in the dutch KNVB competition. For outdoor we practice on Tuesday and Thursday and have matches on Sunday. Indoor practices on Wednesdays and Fridays and plays its matches throughout the week. We have a range of amazing fun activities like members weekend, watching matches at George's beer bar, pubcrawls followed by late nights in the FM and much more! So if it's your first time ever playing football or if you have played for years as a student in Maastricht this is the place to be – join DBSV!  You can sign up via this link or our sign up button on this website. See you on the pitch!
Welcome to the new website
Welcome to the new website of DBSV, to further work on making it as clear and beautiful as possible we would like to ask you to let us know if anything is unclear or incorrect by sending an email to pr@dbsvredsocks.nl! We hope to give you the best impression of DBSV!